Software for Pharmaceutical
Software for pharmaceutical companies must address more complex issues as a result of the onerous requirements placed on this industry. The sector is highly regulated and must comply with numerous government mandates; traceability goes without saying together with all the complexities of process manufacturing. It is a complex area. Pharma ERP software thus must juggle a wide range of data from different departments to create the unified system required to provide consistency throughout the business.
ERP Pharma Built for this Decade
The world is fast moving and ever changing. The need to adapt your supply chain to react quickly to changing events has never been greater. Having effective control systems that give great supply chain visibility and speedy access to accurate information is essential.
​​Being able to forecast based on current activities, historical data and analyze trends allows a business to make informed decisions for better outcomes. Having access to real-time data from within your pharmaceutical ERP software aligns the warehouse, fulfillment and accounting departments, protecting the integrity of information while tracking and tracing all chemical ingredients, logging the activity at each stage of the process for production and inventory control.
​The ability to quickly analyze and interrogate data for internal staff, audits or inspections is fundamental to effective pharmaceutical ERP software. In a multi-billion-dollar industry influenced by so many outside factors, great information allows a business to remain competitive.
​SOS Inventory offers a comprehensive suite of software for pharmaceutical companies who private-label, co-pack or produce OTC medications, brand name or generic medications and their distributors.
SOS will track and trace by lot, batch or item number from arrival to delivery to the customer and quickly generate detailed reports as required providing full traceability throughout production, at every location.
It will also easily provide mandatory documents required by state agencies upon request with accuracy.

Sales orders and picking slips are generated to move stock on a first in first out basis ensuring product freshness. These documents also provide pharmaceutical information regarding product use instructions to the customer.
The Best Pharmaceutical Manufacturing Software
Armed with powerful functionality, SOS Inventory tackles formula-based manufacturing with traceability and advanced batch and lot management. All data is logged and processed to monitor first-in, first-out raw materials, ensuring production aims to keep product fresh and avoid retaining ingredients past expiration dates.
With over 30 different reports at your fingertips, producing paperwork for the FDA or other safety officials is a simple task. SOS's greater visibility and transparency lends itself to better business decision-making.
The best pharmaceutical industry software integrates all the functionality you need daily. SOS Inventory's superlative inventory features sync with other essential business software such as QuickBooks Online, ShipStation, BigCommerce, Zapier, EDI, and UPS to create a smooth seamless transition of data without logging in and out of different platforms or importing and exporting information from one to another. Maintain better control over all raw materials using our bar code generator and scanning features, designed to work from any mobile device. SOS also functions as pharmaceutical distribution software, tracking all movement to retailers and wholesalers you service.
Pharma ERP Software Solution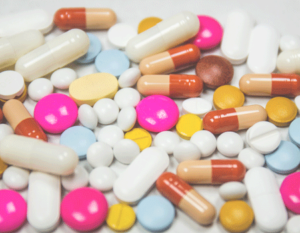 Traditional ERP systems often fail in a pharmaceutical environment. Simple things such as holding stock to decimal places aren't always available. Some pharmaceutical processes involve mixing chemicals and ingredients in a fashion that produces co-products and by-products, again often over-looked by the traditional ERP system.
Whether your products are chemically manufactured on your premise or contract manufactured by one or more suppliers, SOS Inventory has been developed for the pharmaceutical industry, providing the necessary tracking and tracing tools to process item name, description, date, expiration, components, suppliers, sales orders and more all while updating inventory counts as orders are fulfilled and automatically generating new purchase orders according to predetermined reorder points.
SOS Inventory is truly an end-to-end pharmaceutical manufacturing software solution, designed to synchronize data across the business and help businesses stay ahead of changing demands. Software for pharmaceutical manufacturing companies must meet higher standards to fulfill the demands of a highly regulated industry responsible for the well-being of our society. Pharmaceutical software must carry out those responsibilities.