Equipment Rental Management Software
Equipment rental management software allows equipment owners to set up rental agreements, track invoices and rental returns. SOS Inventory's software organizes and catalogues stock and generates sales orders in sync with their QuickBooks Online accounts. You can generate monthly invoices through your QuickBooks Online account; simply use your description box in SOS Inventory.
SOS Inventory is ideal for many industries including:​
Construction equipment
Party Rental Equipment
AV Equipment
IT Equipment
Sports Equipment
Rental Management Software – What it Needs to Do
Create a customized report on the fly or generate one of over 60 reports for your upcoming meeting or quarterly report. SOS Inventory makes it easy to do with just a click of a button. Need to generate certain reports every month? Simply schedule your report, receive a notification and download it at your convenience.
Make updates to your agreement as needed to maintain the most accurate information – an absolute must in the event of an audit. Everything is traceable and trackable for compete compliance and precision.
​Automate invoices monthly to save time and maintain accurate records through your QuickBooks Online account. Track inventory on the monthly calendar and click to view the details of the rental agreement.
The Best Rental Management Software
SOS Inventory has processed millions of transactions since its inception in 2009. As the top-ranking inventory application designed specifically for QuickBooks Online, we've earned a stellar reputation for our powerful functionality, superior customer service and undeniable affordability. There is simply no need to spend more money on rental equipment tracking software when an inexpensive solution like SOS can provide all the bells and whistles you need to get the job done quickly and efficiently.
At a time when high-end equipment is becoming too unaffordable to purchase due to rising interest rates and more stringent lending terms, more businesses are turning to rentals as a way to survive and thrive through economic difficulty. Your business can grow and prosper through these times with the powerful tools offered through SOS Inventory software.
Rent Manager Software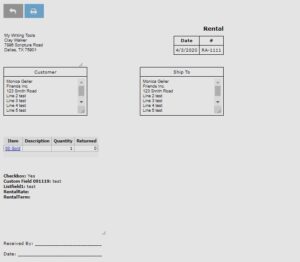 SOS Inventory allows your equipment sales and rentals to remain compliant in any currency, providing functionality to store data, tabulate rates and taxes for your region and automate the process of tying your rentals with your accounting software; SOS provides complete ERP functionality.
At one time, not so long ago, it was simpler to manage all your equipment rentals on a desktop spreadsheet. Since the adoption of more complex tax laws affecting rentals, it has become at once necessary and indispensable to use a software service for managing rental operations and integrating them with accounting software. New laws necessitate the management of additional data points, a difficult task to conquer on a simple spreadsheet. When you need to track many points of data across multiple entries, it's easy to misplace a decimal or mistype a digit. A small error can carry across multiple entries and transactions, requiring you backtrack to identify an error when tracking in a spreadsheet. All this tedious work is quickly and painlessly replaced with SOS equipment rental software features.
Rental inventory software can make your life easier by quickly processing everything you used to do manually. You will save time entering information, cutting down on labor costs, and have consistent and accurate costs at the end of your reporting period.
Equipment Rental Software Features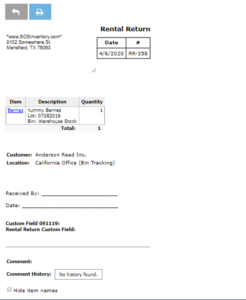 Import all your data directly from QuickBooks Online during the setup process.

Choose the level of service to suit your business's needs – self-service sync in as little as an hour or full-service integration with a QuickBooks ProAdvisor on site at your business.

Streamline all your operations at a single site or across many.

Schedule and save orders to eliminate future conflicts.

Lower costs and increase ROI with the software designed to manage all your information.

Use our iOS application to manage your inventory from any mobile device – ideal for working remotely or out in the field.

Scan equipment barcodes to import information and update inventory on the spot.
Enabling Rental Settings with SOS Inventory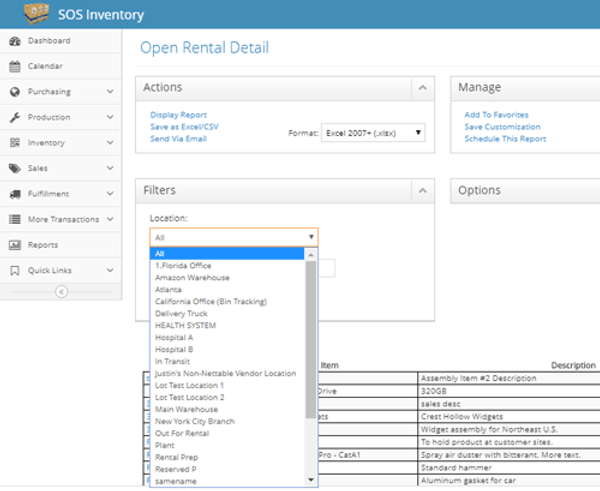 To access SOS Inventory's Rentals and Returns features, simply visit your settings menu, select "inventory settings" and check the "rental inventory" option. Now, when you return to the main menu, under "transactions" you will see a Rentals menu on the More Transactions menu of the Operations Menu, and you will also have an additional location called "Out for Rental," which will contain all items that are currently rented. This location is non-nettable.
Any time a customer rents an item, you may enter a transaction on the More Transaction > Rentals menu, indicating the item and due date. Upon return of that item, a rental return transaction is generated. Customers will continue to be billed via invoices, sales receipts or other related transactions.
To view all items that are out for rental or available for rental, use the Operations Menu > Reports > Miscellaneous > Rental Calendar feature. Note that your rental items must be serialized to view item-level detail on the Rental Calendar. You can also use the Calendar from the Operations Menu to see when rentals are due, as well.
If you're looking for more than just equipment rental management software and need functionality that ties to other areas of your business, SOS Inventory is the ideal platform for your business and available to try out at absolutely no risk!
What our customers say
Aw
Accounting wIT
Easy to use and has all the Inventory tracking capabilities I was looking for at a very reasonable price.