How you manage inventory across your business directly impacts your business' ability to grow. If you're operating a small to medium sized business, or perhaps just starting out, inventory systems with minimal functionality can only get you so far. And if different departments of your business are all doing their own thing with spreadsheets and point solutions, numbers are bound to vary, and so decision making is compromised.
The inventory management process, at its most efficient, will maintain the ideal balance between product quantities and demand to ensure the least amount of cash is tied up in inventory, so increasing profitability.
Excel spreadsheets, whilst popular for local flexibility, create islands of automation with no coherent version of the truth. Startups tend to use them as the alternative, as most big name ERP systems run in the tens of thousands of dollars from the onset.
SOS Inventory is unique in that it delivers full functionality that is easy-to-use and easy-to-implement at an astonishingly modest price point. Unsurprisingly, as it can be implemented in 3 to 6 weeks, it is incredibly popular with micro SMEs as well as mid-sized businesses.
Whether managing discrete or process manufacturing, wholesalers, or reselling, SOS keeps track of goods in all forms as they make their journey to the customer.
Complete Stock Management Functionality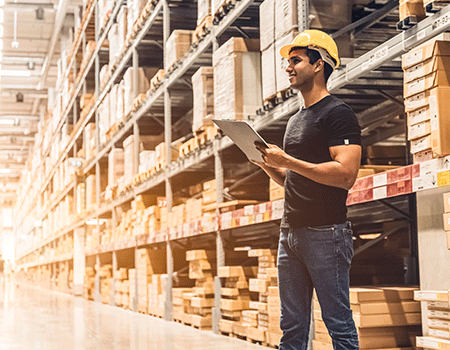 SOS Inventory arms your business with all the tools you need to manage operations from supply chain to manufacturing to sale, fulfillment and beyond. Throughout the entire journey, from department to department, from arrival through final delivery, SOS Inventory provides the functionality every team member needs to get the job done effectively:
Upon receipt from supplier, log raw materials or goods by scanning a barcode and updating inventory counts across the system.
Create lots or serial numbers for lot and serial tracking, an important feature for perishable goods such as food products, chemicals, medications or high-ticket items offering warranty service.
Generate purchase orders manually or automatically when inventory reaches reorder points.
Send non-posting work orders to employees to begin manufacturing processes.
Create sales orders with pricing tiers and customizable commission levels.
Create pick tickets.
Create assemblies and kits.
Quickly and easily trace products backwards or forwards.
Cloud-based access and storage for easy accessibility from any internet connected device.
Round the cloud dedicated support with quick responses.
Designed specifically to work with QuickBooks Online for seamless integration of all business information in either direction, SOS Inventory supercharges your QBO account with hundreds of additional inventory functions lacking in QBO as standard.
Over fifty different report types, customizable for your business and search preference. Create them on the fly or schedule them periodically.
Connect your inventory data to third party applications for e-commerce storefront capabilities, Shopify accounting and inventory, BigCommerce, UPS, and more.
Centralize data from multiple locations into a single system for accurate information at every access point.
When your business manages inventory, it tracks inventory quantities and costs at all stages:
⇒ The production inventory is comprised of the materials and supplies used to manufacture the goods.
⇒ Work in process inventory is inventory that is in different stages of production between raw materials and finished goods. It's important to track each stage and the accrued costs tied to them for accurate inventory valuation.
⇒ Finished goods inventory is the inventory of products ready for sale.
When all your inventory data is managed by stock control software like SOS Inventory, you gain greater control and transparency at every workflow stage.
SOS Inventory empowers SMEs with the means to reduce costs, optimize inventory, reduce waste and shrinkage, while maintaining quality and delivering great customer service.