Production Manager Software
An efficient production team runs a smooth operation from the moment of receipt of materials or ingredients, through each production stage until finished product is shipped out to the customer.​
In the early stages of a company's development, spreadsheets might seem an elegant answer for planning and tracking production, but most small to medium business owners soon recognize that using an integrated production management system, such as SOS, is the answer as the complexities of managing the production problem soon show the shortcomings of even the most sophisticated spreadsheet. Integrated production management software provides a shared platform for all stakeholders in the production process. Sales, purchasing, and finance all are working with the same database of company data delivering one version of the truth.
Inventory and Production Management Software
Each day, the planning process begins with the knowledge of what's arriving from supplier, what's in progress and what needs to be completed. Knowing precisely how much product is at each stage allows the production manager to stay on top of daily tasks, meet demand and oversee product quality.
That knowledge should be readily accessible with a software designed to track each production stage and quickly flag exceptions and issues via an integrated reporting and analysis suite. This is one of the key reasons SMEs swear by SOS Inventory!
The Journey from Raw Materials to Finished Goods
Upon arrival of raw materials from suppliers, items can be scanned into the production tracking software with a barcode reader. Generate barcodes from your SOS Inventory account and print them out to apply to the product or scan barcodes to upload all item information.
Once raw materials are available in the SOS Inventory dashboard, any assembly can be created using inventory on hand.
When a build transaction is generated, each assembly created will update raw material counts by drawing quantities from materials received first.
Assemblies can be created from a single lot or multiple lots, using first in first out accounting practices, as required.
Designate lot numbers for groups of materials or products for complete traceability throughout production and long after delivery.
Assign serial numbers for item specific information – important for custom orders, large ticket items or items serviced by warrantees.
SOS's Production Management Software Edge
Cleverly designed production management software should also handle work orders as non-posting transactions, sending a set of instructions to the correct foreman, manager, etc. Once the work order has been processed and the indicated product has been created, a transaction can be created to add the item to inventory and subtract any materials used to create the assembly from the inventory.
This feature is essential for most manufacturers and especially valuable for made to order production.
Production Control Software
When software offers detailed production control, and extensive reporting, it's easier for management to uncover and address bottlenecks, identify cost discrepancies, reduce waste, and control quality. SOS Inventory offers the details to deep dive into product performance and make informed decisions for upcoming production, marketing, and investment.
Reporting and Analysis
Generate production reports and analysis at any time and for any time period. Drill down to the details to see exactly what is in progress, what is completed and what is still left to do.
Expanded BOM Report (Bill of Materials):
Display or download information about any item, at any location, with sub-assemblies, groups, and other optional details. This analysis provides details of an assembly item, including each component, its vendor, the quantity on hand, the quantity used in a build, the cost of each component, and the line total. SOS Inventory supports unlimited, multi-level BOMs.
Open Work Order Detail:
This analysis shows the status of open work orders, including how many units have been ordered, as well as how many remain to be finished.
Production Analysis: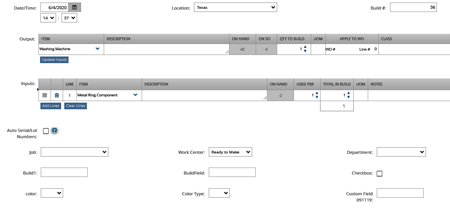 Provides information on build and process transactions, the outputs, and the output quantity.
Where Used:
Shows how an item is used and the quantity used. Can be filtered by category, item name, and vendor.
Work in Progress:
Lists builds and processes that are in progress. Includes the transaction reference, output, input, input quantity and input value.
Production Management System:
These are some of the many great features enjoyed by SOS Inventory customers:
​
Integrate all elements of the production tracking process with purchase orders, sales orders, workflow, labor, job costing and more. Then easily import data directly to QuickBooks Online.

View or edit all builds in progress or create new ones to generate assemblies. Select raw materials to generate each build or update the raw materials count from the BOM.

Processes in SOS Inventory can have an unlimited number of inputs and outputs. This gives you the flexibility to handle not only simple manufacturing (multiple inputs into one output) but also disassembly (where one input turns into many outputs) and processes with by-products (multiple inputs into multiple outputs).

Fulfill orders in part or in full while generating invoices for either status.

Update all inventory quantities in real-time as materials and products arrive or ship from your facilities.

Conduct physical inventory updates from any mobile device while on site using SOS Inventory's mobile application.

SOS Inventory is also designed to work for contract and process manufacturers.
SOS Inventory delivers production manager software features at a price point every SME can afford.
Thousands of QuickBooks customers now use SOS Inventory to manage their production & inventory.
Why not get started with your free trial today?