An ERP (Enterprise Resource Planning) system is a fully integrated software solution that addresses all the operating functions of a business and ERP modules represent functions for each area of the business.
What are ERP and its functions?
One of the benefits of implementing an ERP solution is that it creates a single unified business with all departments operating with one shared set of data. ERP systems are usually modular to ease timing of implementation.
The ERP modules each represent a piece of the entire picture. These modules break out to accommodate different skill sets, duties, and information. Common module examples found in most enterprise resource planning platforms are:
Inventory Management Software Modules:
Inventory functionality concerns unit counts, and every action taken to produce a product from the time production begins until it is ready to be shipped to the customer. Features designed for inventory will track and trace raw materials and products from the first barcode scan (or manual data entry) through every process until the item is sent out for fulfillment. SOS Inventory offers you greater control over your business with the following inventory software modules.
Sales:
The sales module tracks customer purchases, pricing tiers, commissions, sales orders, quotes, invoices, taxes, and shipment tracking. The process can begin with an inquiry and, hopefully, a sale, then moves to other departments to produce product, fulfillment and finally to accounting.
Purchasing:
The acquisition of products and raw materials from suppliers requires lists of vendors, their contact information, lead time, quotes, pricing, and material availability. This functionality can be initiated when items reach their reorder points, triggering a purchase order action to replenish supply.
Production:
Assemblies, kits, builds, and bills of material are all part of the production ERP module. These tasks are specific to manufacturers who turn raw materials into products and (for process manufacturing) byproducts. Manufacturing ERP software covers all types of ERP manufacturing processes.
Supply Chain Management/Fulfillment/Distribution: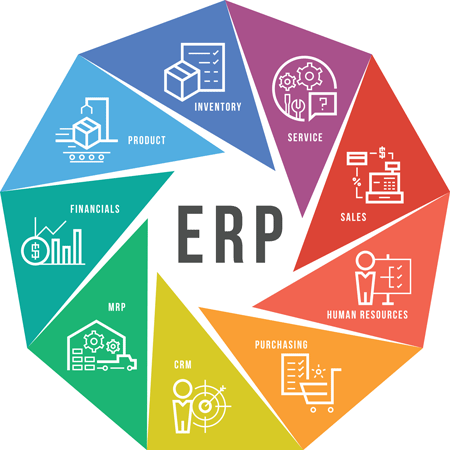 This module handles the logistics of moving finished goods to the customer, entailing the retrieval from the warehouse, packing, labeling, and sending out for shipment. If product is returned, it will also be processed through this module.
Customer Service:
All customer contact information, purchase history, shipping, correspondence, and marketing history falls under the customer service module. Some tasks may cross over to the marketing department as old customers are referred for cross-selling products, replacements, or upgrades.
Accounting:
All costs, payments, invoices, taxes, banking, reporting, etc. are handled by the accounting module. Any data related to money must be relayed to accounting for accurate reports, tax filing, and business decision making.
Payroll & Human Resources:
HR adds all employee information to the system which includes attendance, reviews, benefits, skills, vacation, payroll, reimbursed expenses, etc. After inventory, labor is often the largest investment a company will make.
The Inventory Module in ERP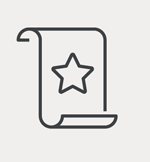 For small to medium size businesses, affordability is the biggest challenge. Having extensive functionality is attractive for all businesses, but robust software designed to handle the particulars of many different departments and then integrate them intelligently to make everyone's job easier comes with a high price tag. Smaller businesses are often limited to window shopping for software equipped with these kinds of perks; however, SOS Inventory offers great flexibility and departmental integration at price point anyone can afford.
When you integrate your QuickBooks Online account with the SOS Inventory software, you transform the world's leading SME financial accounting system into a fully functional stock ERP system designed from the ground up for SMEs who buy, make or sell stuff. You have a solution that addresses serial, lot and batch tracking, multiple locations, purchase orders, manufacturing, sales orders, fulfillment and more, and all at a fraction of the cost of enterprise level ERP software. SOS Inventory delivers powerful functionality, savings, and clarity that repay you many times over.