ERP and MRP refer to enterprise resource planning and material requirements planning respectively, and they do have overlapping features. Systems used to perform these functions are software solutions designed to control backend operations and planning of a business. MRP, as the "M" implies, is more closely focused on the manufacturing and materials aspect, and includes supply chain management.
Material requirements planning entails the calculation of the correct amount of materials needed to produce inventory quantities to meet demand and coordinate them to arrive at the right times for production. MRP primarily addresses the production process in coordination with other departments that impact it.
While MRP refers particularly to the production end of business, ERP manufacturing extends this and encompasses other business functions including human resources, warehousing, fulfillment, shipping, CRM, and finance to cover every activity involved in the creation and sale of product.
What will the best ERP system for manufacturing do for your business?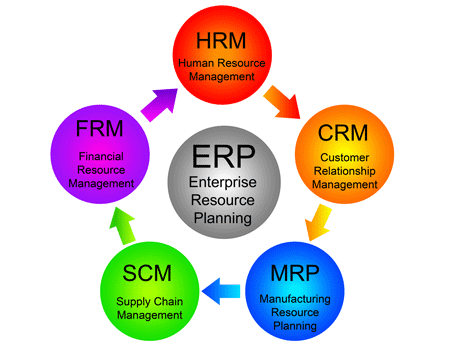 Manufacturers, like other business types, are comprised of several different departments that each need access to product information to do their jobs. They pull the data they need, perform a work function, and record their work activity. Their work actions can impact other departments in the business. To ensure everyone is on the same page when decisions are made, the data must be consistent throughout the business. When departments are operating on spreadsheets, they're working with their own fields and formulas that may exclude information that's vital to another department. When everyone's data is centralized, all the same data is available company wide. Centralized information eliminates duplication and provides the same insights to everyone's workflow view.
ERP modules deliver relevant functionality to each department, allowing them to accomplish just the tasks at hand, but will also trigger actions (at times automated) to occur in modules used by other department. For instance, a sales order can initiate the creation of a build or assembly, updating inventory counts, and initiating production to fill an order.
The goal of ERP and MRP is to create a single unified business, to streamline processes, reduce errors, save on labor costs, increase profits, and improve reporting and analysis.
ERP software incorporates the workflows covered by MRP software, but often MRP is not enough to include everything a business needs for end-to-end operations control. MRP software tends to be standalone software that is limited to the manufacturing end of the business. If a business wants to add on other functionality, it may be possible, but is often not designed to do so easily.
ERP solutions have broader appeal because they incorporate other work functions required for business growth. If a business currently works only with MRP features, they are likely to require additional software down the line that may not integrate with their existing system. And if your business would benefit from automatic synchronization with QuickBooks Online, Ship Station, Big Commerce, Shopify or UPS, SOS Inventory is designed for your needs.
Traditionally ERP systems have been expensive, complex, and difficult to implement, due to the wide variety of functions they include.
Q: What are the advantages and disadvantages of ERP software?
A: Some of the advantages are:
Sharing of information company-wide offers greater consistency and accuracy
Greater insights into product performance
Improved communication
Some of the disadvantages are:
Length of time it takes to install/implement a new system
High start-up costs
Difficult to learn and navigate
SOS Inventory is a great ERP alternative as it does not present the disadvantages of most systems.
Q: What are ERP/MRP systems?
A: A business looking for both ERP and MRP functionality needs the supply chain and manufacturing control that comes from MRP software and the controls offered by ERP, connecting different departments of the business all together into a single software platform. SOS Inventory does, indeed, achieve this goal.
Q: What is an MRP inventory system?
A: If a business only needs manufacturing functionality that does not tie into other areas of the business, an MRP is limited to inventory planning features. MRP inventory software is not designed to share data with other departments of your business.
Q: How can MRP ERP systems help us grow when faced with rising costs?
A: The benefit of working with software like SOS Inventory is that you get high end features at a very affordable price, ones that help your business trim waste and reduce labor hours.
Setting the Bar in ERP MRP Software for Small Business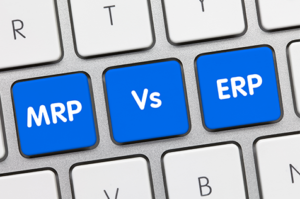 Paying exorbitant amounts of money for ERP MRP software does not mean your business gets a better product, nor the features it needs to operate more efficiently. In fact, you will often end paying for many functionalities you have no use for.
SOS Inventory is the exception as it has been designed from the outset for SMEs and although it offers the broad functionality expected of an ERP system, it is easy-to-use and easy-to-implement, with many implementations taking just a few weeks to deliver a fully working system.
SOS Inventory offers the diversity of modules and feature rich software at a price point that is highly affordable. Couple these benefits with outstanding customer service and customizable options for a flexible solution to fit almost any industry niche. With SOS Inventory, there is no need to sacrifice on functionality because of price.
Software upgrades are automatically implemented without any additional cost to you, so you are always running on the latest version of the product.
SOS is designed for small businesses by a small business to facilitate success and growth. Whether your business needs MRP or ERP software functionality, you'll find SOS Inventory easy to use and implement at any stage of the game. Small business MRP and ERP functionality are easier with SOS Inventory.