An inventory tracker designed for freedom of movement in the office or warehouse will offer both desktop and mobile app accessibility. Each version of the application should share information with a central system. If you're also working with QuickBooks Online, today's most popular finance management platform, the inventory solution tailored to your needs is SOS Inventory, the top-rated inventory management software for QBO users.
​Any product centric business has inventory to track and proper management of that inventory is essential for profitability and customer satisfaction. For SME entrepreneurs to mid-sized businesses, SOS Inventory offers the ideal, affordable solution with comprehensive inventory tracking functionality addressing all the requirements of a business that makes, buys or sells product.
Both the desktop and mobile application versions are cloud-based and updated regularly so you never need to be concerned about buying and installing software updates – they are free and are handled automatically. SOS Inventory will continue to address your business needs as your company grows.​
SOS Inventory is also ideal for food and perishable product businesses which require full traceability and process manufacturing.
​For a complete list of all features available for sales orders, manufacturing, purchasing and fulfillment, check out our features list.
Desktop Application Inventory Tracking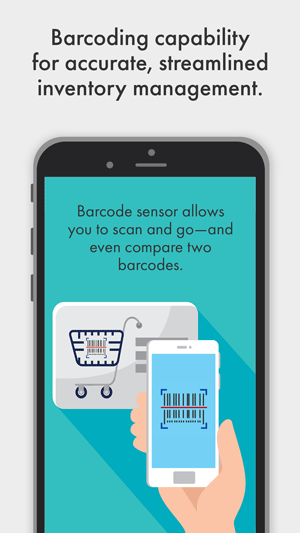 SOS Inventory's desktop inventory software is one of the first on the market designed specifically for QuickBooks Online users to share data quickly and easily. QuickBooks itself offers limited inventory functionality; if you need anything beyond the basic, adding SOS Inventory will provide all the functionality you need, whether you are a wholesaler or manufacturer.​
SOS Inventory integrates with ShipStation, PayPal, BigCommerce or Shopify, extending the functionality to address automated and easy payments, e-commerce and EDI.​
Mobile application users can login using the credentials created on the desktop application. The mobile inventory tracker version is designed to complement the desktop version, and they work seamlessly together offering you affordable flexibility.
Mobile Inventory Tracker
Get a panoramic view of your inventory, cash flow, and operations with a single inventory management control program designed specifically for QBO integration. SOS Inventory was created with the small business owner in mind; similar programs start at tens of thousands of dollars. SOS is suitable for the cost-conscious with no sacrifice of powerful features and functions.
​SOS Inventory's easy-to-use inventory management software offers complete control over purchase orders, stock, sales, customers, and locations with endless reporting options. Our mobile application allows users the freedom to work away from the desk, and unique features that are especially convenient for conducting physical inventory counts.
SOS Inventory's mobile application is a far-reaching inventory tracker software. Some of the functions include:
​
Rapid Stock Review – Quickly check stock-on-hand by location and date.

Pricing Checks – Scan items and apply a wide range of filters to vendor specific discounts, quantity discounts, general pricing, etc.

Bin Tracking – Find the count of any bin.

Physical Inventory Counts – Conduct an inventory audit. Scan bar codes to check actual versus logged inventory numbers by location.

Add a Sale – Add an estimate, order, receipt, or invoice.

Built-in Bar Code Scanning – Scan items from your phone directly to the mobile app for quick inventory review and comparison.
You won't find a more affordable inventory tracker app that features the broad range of functionalities SOS Inventory does. Inventory location tracking is a snap and any number of locations can be tracked separately.
Why You Should Use an Inventory Tracker App
There are many reasons why you should switch over to an inventory tracker app. Properly managing your inventory is essential if you want your business to be successful on a long-term basis. By tracking your stock with an app, you can stay ahead of potential stock errors and similar issues. The main benefits of using an inventory tracker app include:
Less risk of overselling – Tracking your inventory allows you to know what your stock levels are and which products are on backorder, which reduces the risk of overselling.
Higher accuracy – By tracking your inventory with an app, you can order only the inventory that's required to meet demand.
Avoiding excess stock – Proper planning allows you to minimize the days on which a product is out of stock.
Saves money – Any items that remain in stock carry costs that include storage, handling, and insurance, which is an issue that an inventory tracker app can help you avoid.
Better insights – A tracker app will provide you with useful data about your inventory, which can help you identify sales trends.
Improved terms with suppliers and vendors – Tracking your inventory gives you the opportunity to determine which of your products sell and at what volume, which you can use to negotiate terms and prices with suppliers.
More convenience – Using an inventory app to track your products allows you to manage inventory from wherever you are.
SOS Inventory Tracking App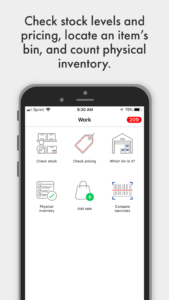 SOS Inventory is a small business inventory tracker designed to generate and scan barcodes, record all raw material and production information when scanned, and pass that information through each workflow step to amass all product activity in one central database while under the care of the business, and beyond, when a product may require warrantee service.
An online inventory tracker is essential today at a time when businesses need more flexibility to allow workers to perform their duties remotely, in shifts and socially distanced. The ability to access their information from cloud-based software that is always updated is a necessity for survival and growth in a volatile market.
Mobile Inventory Software
Our mobile inventory software app makes working from the warehouse, a cafe' or even from home, easy to do and seamless, as the data remains consistent anywhere it is accessed.
Click here to download the mobile application at the Apple App Store. This version is suitable for all iOS products.
Starting at just $59.95/month for two users, SOS Inventory is incredibly affordable and an amazing value for money given the extensive functionality if delivers.​
Rely on SOS Inventory for accuracy, organization, and current reporting to provide a single perspective of all company-wide actions.