If you're in search of an inventory and order management system (oms) to manage your inventory as it moves from your supply chain system into your warehouse and then on to the customer, retaining all the pertinent information along the way, SOS Inventory software is the platform your business needs.
The right software must include key functionality:
Purchase orders to suppliers
Delivery at warehouse
Inventory Count
Assembly
Sales Orders
Multiple Location Logistics
Shipment to Customer
Tracking
Accounting
Managing these activities on a spreadsheet is complex, onerous and error-prone and can, indeed, be divisive. Spreadsheets can create islands of automation that are not synchronized. As a platform for growth your business deserves a single unified information ERP and centralized inventory order management system where each department is working on shared accurate and timely data, and one version of the truth.
The lack of integrated order tracking software can lead to shortages, overages, unhappy customers and, ultimately, an impact on profitability.
When looking for the best inventory and online order management software solutions, you must select products already proven for your industry and your business size, then you can be assured the solution will have the basic functionality you need to control your business.
Look for solutions, like SOS Inventory, that are written specifically for SMEs, and are affordable, thus easy to buy, implement and use. Avoid mainstream mid-tier solutions pretending to be SME solutions, as their cost and complexity of implementation will kill you! They are loaded with features that are irrelevant for you. Why pay for the overhead? Web based order processing software is the way to go to save on IT maintenance and repairs, plus software upgrades; web based order management is the modern way to ensure business continuity.
If you are an SME, there is a good chance you will use QuickBooks for finance and, if so, SOS inventory is a natural partner product extending the QuickBooks functionality into fully operational stock control for companies who buy, make and sell stuff.
What's more, SOS Inventory provides manufacturing order processing software features most manufacturing software sorely lacks.
Order Tracking Software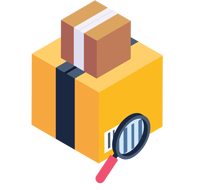 Comprehensive order tracking software must:
­­­Track and manage all interactions between suppliers

Track storage and movement within the warehouse including assembly

Handle inventory counts with your accounting method, periodic or perpetual

Manage inventory and movement at all locations

Manage all sales orders and returns in any currency

Manage fulfillment and shipping

Manage delivery to customer and returns
Order Fulfillment
One of the challenges businesses face is how to invoice for partially shipped orders. With SOS Inventory, indeed, that is possible and all the complications that normally come along with breaking up shipments are easily resolved with SOS's propriety inventory solutions. SOS Inventory was specifically designed to work with QuickBooks Online to facilitate easy billing functionality generated either from SOS or directly within QBO. Keep customers happy with more on-time deliveries using better inventory and order management tools.
Inventory Order Management System and Inventory Software Process
When production runs smoother and the tedious work is tackled with state-of-the-art order management software, the business can focus on customer satisfaction and quality control. Within a few short weeks, your business can be up and running with SOS Inventory, enjoying greater functionality, visibility, analysis, transparency, and consistency company wide.
There is an old saying that says, ' if you do what you always do, you get what you always get!'
Ask yourself, if your business grows with its current information management and order management systems in place, will you have to keep adding staff?
If YES, you need a new, fully integrated order management and ERP solution, that will support growth with less staff. And an efficient inventory order management software like SOS Inventory can actually replace many man hours.