Many people believe the concept of Just in Time (JIT) inventory was created at Toyota in the 1960s and 70s. Wikipedia dates it to Eli Whitney in 1799 who came up with the idea to service a US Army contract. Whoever invented it, it seems like distilled common sense.
The idea is that you don't receive goods until you need them, so you carry minimal if any stock, which is great if you can achieve it! Clearly JIT requires systems of some sophistication and accuracy to be effective; to be able to forecast weeks ahead exactly what day, and often what time on what day, an item is required assumes great data and systems accuracy.
It affects more than just your plant; your supplier's systems need to be able to deliver to 30- minute pre booked time slots, a feat beyond many ERP systems.
And watching the trucks queue up in the small side streets surrounding a well-known UK car manufacturer, all hoping and trying to hit their slot, caused another type of headache for local residents.
That said, JIT is a great stock control tool as it minimizes waste while reducing funds tied up in inventory investment.
This approach can work well for some startup companies with agile systems but lacking the funds to invest in stock, and industries manufacturing high ticket items and customizable products. The quicker the production time, the better.
One key facet is supply chain resilience. This only works if you can trust your suppliers to deliver, then JIT manufacturing is an efficient way to run your business. You should also have a handle on seasonality of your product, demand, and sales cycles.
SOS Inventory gives you the versatility of choosing the best inventory system for your business. You can enable the auto-recalculation of reorder points to adjust to a just in time inventory model, or manually generate purchase orders at any time. SOS lets you manage stock levels on the fly to adapt to fluctuating demand.
Just in Time Inventory Management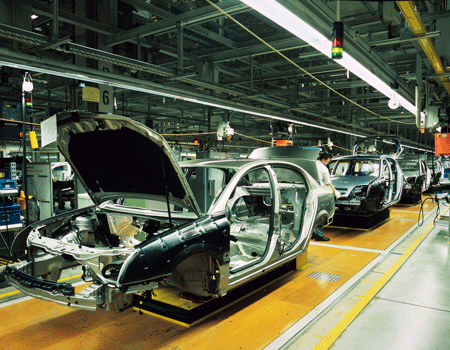 The just in time inventory management system frees up cash flow for other business expenses. For some businesses, this flexibility is vital. When finished product consumes a great deal of storage space or funds are needed to invest in other areas of the business, being able to pace inventory production is necessary.
JIT production aims to reduce waste and reduce storage space; a finished product is not created unless the demand exists for it, so it is unlikely to remain unsold. No safety stock exists, and inventory levels are always low. There is a risk of stockouts, thus choosing dependable supply chains is pivotal to success.
Supply chain disruption due to inclement weather, geopolitical upset or economic impact can severely impact businesses with low inventory. SOS Inventory's reports can glean insight into supply chain costs helping your business identify the best suppliers to ensure smoother production.
What are examples of just in time inventory processes?
As previously mentioned, the JIT inventory model is ideal for car manufacturers who customize finishes and features by customer request.
Fast food chain restaurants, too, mass produce their products up to the point of serving it to the customer with toppings and condiments requested by the customer.
Just in time stock control is an effective approach for any business that offers some type of customization to their products.
SOS Inventory Benefits the JIT Inventory System:
Great inventory controls at a cost-conscious price tag. Get started at just $59.95/month.
Lower labor costs across your just in time inventory system
Customizable fields and settings
Manual or automatic reorder points.
Create build, kits and assemblies updating inventory count as raw materials are used.
Log all steps in production from time of arrival from supply chains through customer delivery.
Lot and serial number tracking capabilities
Over 50 different reports
Bi-directional synchronization with QuickBooks Online
Put a proven just in time inventory management software to work for you. Trim costs and grow your business with the advanced suite of inventory tools SOS Inventory offers businesses of all sizes. If your business uses a just in time inventory stock control business model, SOS Inventory will enhance transparency, increase profits, and reduce waste. Why not get started today with a proven just in time inventory control softare?
What our customers say
H
Hermetic
I have a new startup and I'm new to manufacturing. Justin was patient with me during my learning curve. He was very articulate and helped me through all of my complicated processes with my contract manufacturer business model.
J
JakeW
SOS does a lot of heavy lifting for small manufacturing companies like ours and the service is super responsive. The fact that their development team is actively developing to customer requests says a lot about the company. Keep up the good work and shout out to Justin!