ABC Inventory is the process of prioritizing and categorizing inventory according to best sellers or most profitable items, enabling different stock control policies to be applied depending on the worth of the item to the business.
ABC Inventory Analysis
For example, if an appliance manufacturer has a great reputation for its stoves and is dependent on a steady flow of orders for them, the manufacturer will prioritize them for inventory replenishment and ensure purchase orders for parts are given precedence. If, on the other hand, microwave ovens don't sell as well, they might be designated as less important (maybe a category B item).
ABC analysis has been practiced since long before there were ABC inventory management software platforms available. Whether on spreadsheets or within software, highlighting the most important products allows you to adjust their minimum stock levels accordingly. You certainly don't want to run out of stock of your money makers and risk losing sales to a competitor!
How Does an ABC Inventory System Work?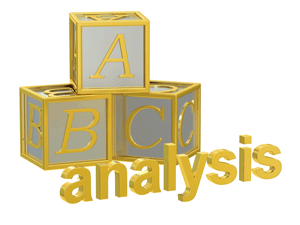 First, products are designated categories with the best sellers being A and all other categories being labeled with B, C, D, E, etc. according to analysis results. The data analysis will examine profits, quantities sold, turnover threshold percentage, etc. over a chosen time frame to determine the criteria for each category. Criteria can vary across time and will vary from one business to another.
​The general idea is that the quantity of items in stock for category A will be smaller than the number in B.  B will be less than C and so on. There may be far fewer A category products in stock but the total sales for category A could exceed the total sales for all other categories combined.
​ABC analysis in inventory management can be performed by inventory software quite easily, but with advanced inventory software platforms, ABC Inventory analysis is less commonly used as many of the issues are these days solved in other ways through techniques such as scoring.
​On an Excel spreadsheet, this might be shown in columns as follows:
Products will be listed in decreasing order of quantities sold over a chosen period, 6 months, for example. (The longer the history examined, the more reliable the numbers to even out the seasonal highs and lows). Then, the sales or quantity thresholds are used against the cumulative share of the item weights.
Some common questions about an abc inventory system:
Q: When would a business need to use ABC analysis?
A: If you decide to perform cycle counting of your best selling or most expensive inventory items instead of doing a full physical inventory each time, classifying certain products into groups to review at different intervals is one of the preferred ways to do it.
Given the recent supply chain issues, it's possible you may experience a very profitable product becoming less profitable. You can change its category to handle it accordingly or make changes to your supplier arrangement to stay within a profit range.
Q: Do I need specialized ABC inventory software to perform product classification?
A: No, SOS Inventory will allow you to easily sort products using any number of customizable classes you choose.
ABC Analysis Example: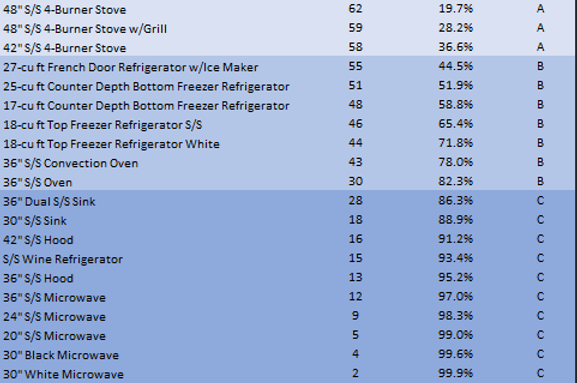 SOS Inventory software can quickly provide analysis based on the fields and criteria you select, making this analysis quick and easy to undertake as often as you'd like to reevaluate product performance.
With an ABC inventory management system in place, you're set to learn more from past product performance to make better decisions moving forward.
ABC Analysis and Decision Making
So, what are the takeaways from all these mathematical calculations? Classifying products could reveal those items which should be eliminated entirely from inventory, i.e. very few of them have sold over the past year.
After analysis, management could decide to offer variations of category A items, i.e. offer the stove in a different finish. The amount of labor delegated to category A items could exceed time allotted to other categories.
While a simplistic function, ABC Inventory analysis gives companies a high-level view of product performance to determine whether the existing inventory strategy should remain in place or whether opportunities for growth exist in top selling items. With SOS Inventory, this is easy to do with full-scale data analysis of any criteria desired. By creating classes to sort your products, SOS becomes the ideal ABC inventory software tool operating in the background while you focus on your business. Enjoy the ease of ABC inventory control system features with the benefit of extensive inventory management tools.
What our customers say
SD
Suanne Day
Raque is truly an asset to SOS. Keep her happy and make sure she stays. She truly cares about the customer success and is very responsive. I can honestly say she alone "sold" this account.
S
StephenK
This is just a great add-on for Quickbooks Online ("QBO"). It's not just inventory, it's a complete ERP system as well. Syncs flawlessly with QBO. Workflows make great, logical sense to the real world and documentation is very good. Now if you ever have any questions, their customer support service is excellent. They get back to you VERY timely and with simple to understand resolutions. I highly recommend this!!