Finished goods inventory is one of three inventory classifications specific to manufacturers and refers to products in stock ready to be sold to customers. Retailers, on the other hand, only work with finished goods (called merchandise once purchased), therefore do not segment their inventory for tracking and accounting purposes.​
A manufacturer's inventory is categorized according to stages of production as beginning balance, work in process, goods manufactured and finished goods inventory. Together, they provide an ending inventory balance, but are all listed separately on a balance sheet to present clear, concise numbers to bankers or investors. When products are at varying stages of production, the raw materials and cost to produce them will vary, even for the same product. As components or ingredients are added to a product in production, the cost changes.
How do you calculate finished goods inventory?
There are two different methods for calculating finished goods inventory. The account method is as follows:
Beginning balance + cost of goods manufactured – cost of goods sold = finished goods inventory
This will give you a value for all the products within the time frame in question. The cost of goods manufactured is a number that includes the cost of raw materials, labor and overhead.
The unit method formula begins with the cost per product:
First add materials, labor and overhead for each product to determine the total cost per unit. Conduct a physical inventory count to determine the number of products in stock.
Total cost per unit x number of units = finished goods inventory
Businesses often perform these calculations at the end of a quarter and then again for the end of the year. This figure is important in determining the business's profitability and is a key component in financial reporting.
The value of finished goods is treated as a short-term asset; however, even finished goods can sit on the shelves, eventually becoming dead stock. If the product is perishable, it will be discarded, and that loss will impact margins.
If the item is seasonal or trendy, it may be discounted to move it quickly. This would, in turn, result in lowering profits.
The value of finished goods is higher than goods at other stages, obviously because more components and labor have been added, and they are suitable for purchase.
Finished product inventory can fluctuate over time even while sitting on a shelf, awaiting shipment to a customer. As previously mentioned, it can spoil, become outdated, or become damaged from being moved or mishandled while in storage.
Let SOS Inventory Do the Math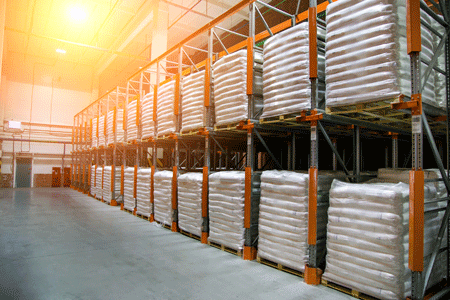 No matter which finished goods inventory formula you use, you can achieve greater accuracy when tracking your data with SOS Inventory.
By far, the easiest way to determine finished goods inventory is to manage all ends of your business's operations with SOS Inventory software. All costs of raw materials, labor, inventory counts, and sales are always updated in real-time to make finished goods reporting a breeze. If you want to keep accurate records and have confidence in your financial reporting, SOS Inventory will deliver reliable finished goods inventory information throughout the year.
All types of businesses need tracking for finished goods inventory since it represents the product sold to customers. Whether you use periodic or perpetual inventory accounting methods to track your products with SOS Inventory, you will always have a clear picture of your finished goods inventory.