Bakery software for retail and wholesale bakers should provide tools to manage recipes with their fractional quantities of raw materials and instructions. Managing perishable food products requires additional precautions to ensure freshness and quality of finished goods. There are several vital requirements for bakery production that only a robust inventory software system can deliver.
When working with food products, ensuring freshness and timely turnover of products is essential for delivering quality product to customers. Using a first in first out method of inventory accounting, bakeries can delegate raw materials for use in product production in order of receipt date.
SOS Inventory handles every step of the production process, tracking raw materials, accounting for waste and byproducts, and using lot tracking to ensure the path a product takes can be viewed at any point in time. Should a product recall be necessary, speedy and accurate tracking and tracing forward and backward in production or delivery is essential to limit the size and cost of the recall, so maintaining your reputation.
What to Look for in Bakery Management Software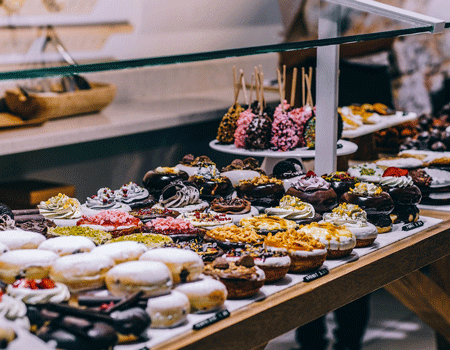 Baking entails process manufacturing and the blending of raw materials to create edible products that cannot be disassembled. At times, these processes generate waste, such as oil used in cooking that must be discarded or batter left in a mixing bowl. Some recipes create co-products which can be added as inventory. These are important considerations for bakers that many other industries do not encounter in manufacturing.
SOS Inventory extends beyond the production process to include essential business tasks for accounting, fulfillment, sales, order processing, and more. Bakery inventory management tools that are easy to use and quick to implement make setting up your software for success a pleasant experience.
Track barcodes of raw materials upon receipt with detailed information about ingredients, expiration date and nutritional information.
Record every production step, generating builds and assemblies that update inventory counts as each product is created.
Track lots of products for quick recalls to reduce impacted product, customers impacted and reputation
Manage inventory at any location in one centralized system for a single data set.
Quickly generate reports on the spot to or evaluate costs.
Automate purchase orders according to predetermined minimum inventory quantities to prevent stock-outs and lost sales.
Manage orders and customize pricing tiers by customer
Create templates for recipes using a bill of materials and easily modify them for different flavors or variations of your recipe.
In today's challenging conditions, having the flexibility to access your food inventory information remotely is a necessity. SOS Inventory offers reliable, 24-7 cloud-based access that is secure, affordable, and reliable. Login from anywhere you can access the internet to perform an up to the minute inventory check from your warehouse or storefront. Physical counts update the entire system simultaneously, so your numbers are always accurate at any access point by any employee.
If your bakery management system doesn't unify your orders, production, fulfillment, purchase orders and accounting, you're sacrificing the powerful, yet affordable tools SOS Inventory can bring to your bakery business. Control labor costs, identify bottle necks, assess and manage multiple suppliers, automate reorders, and stay on top of all inventory functions incoming and outgoing from every department of your business.
The bakery industry, even more so than other food products, is judged by texture, moistness and freshness. Once your baked goods are stale, they have to be thrown away. Lot tracking is especially important for your business to make sure you are always on top of expiration dates and using only the freshest products to create your recipes. And if your business requires bakery order management software features, you're in luck. SOS Inventory has you covered.
Synchronize your inventory to ecommerce shopping portals, ShipStation, UPS, QuickBooks, and Zapier with the click of a button. Set up is simple and can be completed in as little as a few days. Small businesses appreciate the robust bakery ERP software features available at affordable price points with no sacrifice of capabilities or capable support.
For the great bakery software features your business needs, trust SOS Inventory for the right recipe to make your business cost-effective and scalable for growth.