What is 3PL and does it make sense for your business? 3PL is an abbreviation for third-party logistics, a broad set of services provided by an outside party to assist your business in order completion. These 3PL services could include one or more of the following: storage, picking and packing, fulfillment, freight forwarding or shipping. Some will even provide sourcing, procurement, and product planning. While many businesses do all the above themselves, not every one can do it successfully and profitably.
Your business can integrate a 3PL supplier's workflows into your own inventory software to harness greater control over product movement and costs. SOS Inventory gives your business the tools it needs for greater visibility at any location. Send sales orders directly to your fulfillment center to pick, pack, and deliver products to your customers and much more. Third party inventory management couldn't be easier than it gets with SOS.
Compare the features of a 3PL company to a drop shipper:
Criteria
3PL Company
Drop Shipper
Inventory Management
Manages and stores inventory in their own warehouse. Provides real-time visibility and control over inventory levels.
Does not own or manage inventory as they rely on suppliers & manufacturers to ship products directly to customers.
Order Fulfillment
Handles order fulfillment and shipping processes. Can handle large volumes of orders.
Relies on suppliers or manufacturers for these processes.
Scalability
Can handle scalability and growth, adjusting resources as needed.
Can be limited in scalability due hands-off approach.
Control
Provides control over logistics processes and operations.
Limited control over order fulfillment and shipping over processes.
Costs
Cost-effective for large volume businesses due to economies of scale.
Lower upfront costs as there is no need for inventory management and warehousing; however, may have higher product costs and shipping fees.
Branding Opportunities
Can incorporate branding and customize packaging and inserts.
Limited branding opportunities as products are shipped directly from suppliers or manufacturers.
Customer Interactions
May have direct customer interactions and support.
Limited customer interactions as the drop shipper is not involved in fulfillment or shipping.
Returns
Manages returns and reverse logistics processes.
Returns and exchanges may require coordination between the retailers, supplier or manufacturer.
Control over Shipping & Delivery Times
Provides transparency and control over shipping and delivery times.
Less control over shipping and delivery times as it depends on suppliers and manufacturers.
Why Businesses Turn to a 3PL
As with most things in life, money is a major determining factor when organizing a business structure. If your business is just starting out or testing out a new product, perhaps you lack the storage space or finances to warehouse and fulfill orders. Here are a few circumstances that may best suit adding a 3PL supplier:
Regulated materials often require special climate conditions or handling and all requiring thorough tracking. A 3PL that is set up to meet these standards can manage those products for more than one vendor.
If your money is not tied up in storage and fulfillment, it's available to invest in other areas of your business.
Reduce shipping costs when your 3PL passes on its negotiated rates to you. The more they ship, the more leverage they have with the main carriers to lower their contract rates.
You may not need additional services throughout the year. Perhaps you only need to contract work out when the demand increases seasonally. Instead of paying year-round for the additional space or staff, you only pay for the time you require the additional help.
You may choose to have multiple 3PL locations to ship within the closest distance to your customer. The shorter the distance, the cheaper the shipping cost and the faster the delivery service.
If your business is just starting out, learning the ropes for your entire business model may be more than you're ready to handle from on onset. Handing some of the tasks off to experts can help your business get set up for profitability sooner than if you had to make many costly mistakes along the way.
Break into new markets where your 3PL specializes. Perhaps you want to expand internationally or enter a new vertical market. Working with a company that has experience in those arenas can save your business the growing pains.
A 3pl inventory management system offers many benefits to businesses that need to test out a new product or market without sinking substantial amounts of cash flow into a test run.
When is the 3PL Supply Chain Not Ideal?
If your 3PL supply chain is unreliable, it will reflect negatively on your business. Do your homework before you commit by reading reviews and asking for references.
Getting started with an outside party could cost more money upfront, depending on the type of service offered.
Communication is essential for product quality control. If a 3PL doesn't communicate or has difficulty understanding you, you could run into problems down the line.
If you determine a third party supply chain makes sense for your business, having 3pl inventory software functionality will make integration into your other operational activities a snap.
Picking Your 3PL Partner -3PL Integration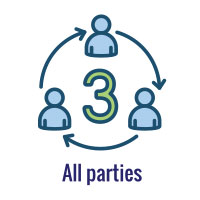 The goal in selecting a 3PL partner may be allocating tasks you are not set up to handle, saving on shipping costs, or testing out a new product without making a large investment. If you do your research, you can find a company to achieve all your goals and negotiate a fair deal. But, getting caught up with the price without considering other areas of the arrangement could cost you if you don't have an honest partner. Take your time to negotiate all the terms of the agreement.
SOS Inventory offers integrations for 3PLs to connect to your business, centralizing all information for better inventory control. As a 3PL software for small businesses, you can easily grow your business without making large investments. With SOS, you can lower your costs while increasing your profits when you take advantage of all the powerful software features we have to offer.