Warehouse barcoding marks the beginning of the tracking process, allowing you to enter items received into your software system where they will populate across departments and update with each workflow action through delivery to the customer.
If you're having trouble keeping accurate records, your current system is insufficient for your needs. Implementing a barcode system in your warehouse will allow you to log events related to every product as they change, making it easier to track quantities, costs, manage stock levels, and fulfill orders on time.
Transactional barcode scanning is easy with SOS Inventory.
Implementing a Barcode System
Organizing your inventory begins with generating an itemized list of all products in a spreadsheet that list important product details such as size, color, cost, manufacturer, etc.
Determine the format you prefer: one-dimensional, two-dimensional, numeric or alpha-numeric.
In addition to an item name, each item in SOS can be configured with a specific barcode. This allows the system to recognize the name of the item or the barcode. To specify a barcode for an item, go to the item's edit page, and then scan or type the barcode into the Barcode field. For other scannable data, such as serial numbers and lot numbers, you simply enter the data as normal, and scan it when ready. The system will recognize it and match the appropriate data. Barcodes can be used on any transaction simply by adding a field to the appropriate form template.
You can create a printable pdf of your barcode to generate labels for products.
Use a Bluetooth or USB connected scanner to scan barcodes supported by SOS inventory to enter them into your SOS account: Code 39, UPC, ISBN, and QR Code barcode formats.
But barcoding is just one step put in place to streamline inventory processes. What happens to inventory once removed from the shelves, whether shipped to a customer or sent to the production floor for processing, should be tracked and evaluated throughout each stage to ensure inventory quantities keep up with demand while avoiding overages that run up storage fees or go to waste.
Some other warehouse management processes include:
Putaway Warehouse
As the name implies, putaway warehouse refers to the movement of inventory from receiving to its designated storage space in your warehouse. Businesses aim to optimize this process by speeding up movement from point A to point B; selecting the most convenient storage location; recording storage location; and ensuring safety measures are followed in the process.
Warehouse Cycle Count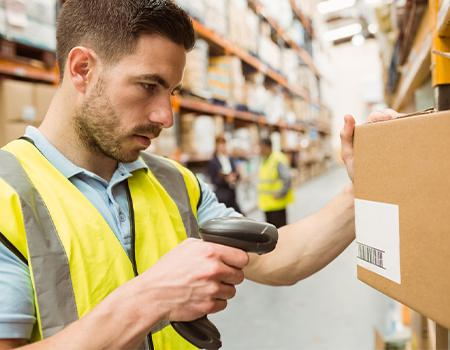 Companies that carry a small quantity of products may opt for a warehouse cycle count, updating inventory quantities across their system only after the monthly or quarterly review occurs. While feasible for smaller outfits, if a business wanted software scalable for growth, the ability to easily transition from a periodic to a perpetual inventory system is ideal. SOS Inventory offers you that capability.
To track quantities, costs, and work actions, you need software designed to integrate information from every touchpoint as items move from receiving to the warehouse, fulfillment, or manufacturing. SOS Inventory brings greater efficiency, accuracy and cost savings to your warehouse management processes with a full suite of inventory management features.
What's more, your warehouse management integrates with processes throughout your company from manufacturing, fulfillment, sales, and finance to share data across departments and unlimited locations.
Just a few of SOS Inventory's highlights include:
Manage inventory levels with automated purchase orders to replace inventory as needed.
Track product costs as they are incurred for accurate records and reporting.
Locate product forward or backwards anywhere in its journey
Track expiration dates with lot tracking capabilities.
Pick and pack
Connect with ShipStation or UPS via API
Keep real-time inventory quantities and costs at every access point
Generate barcode labels
Scan barcodes to retrieve all product information
Track serial numbers
Warehouse barcoding and tracking are important capabilities for any small business to improve management processes, save time, and cut both waste and costs.  Get a leg up on your competition with the state-of-the-art software that gives you complete end-to-end control at a price that's just right for your small businesses.