July 30, 2018 | SOS Inventory
SOS Inventory User Profile- Kopernik Solutions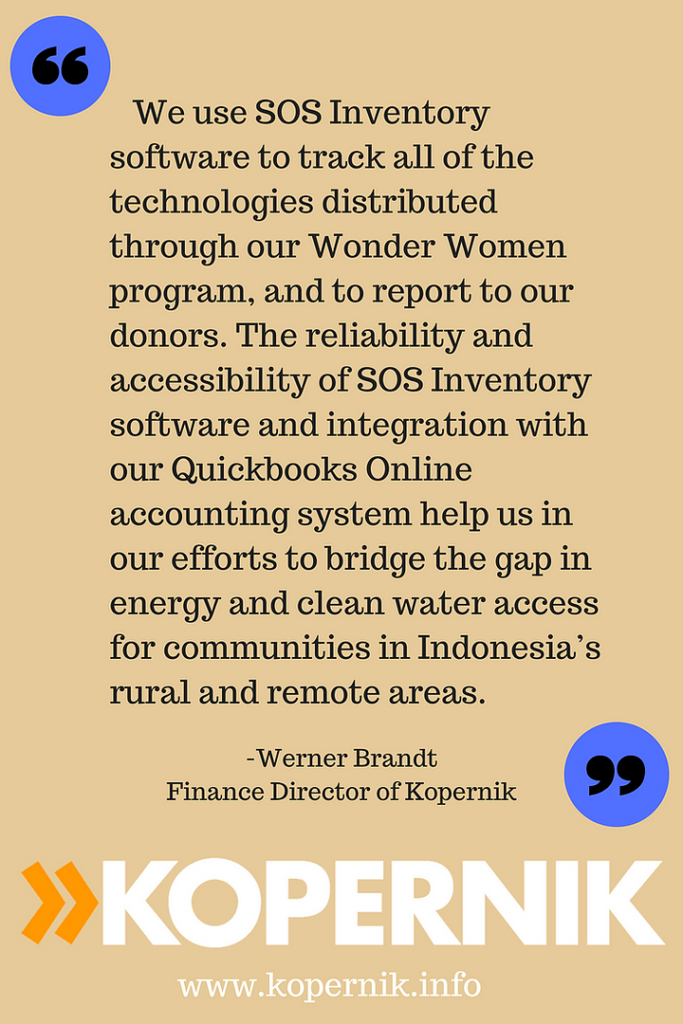 Their namesake, Nicolaus Copernicus, changed the way people see the world. Kopernik was founded in 2010 by Toshi Nakamura and Ewa Wojkowska on that same principle, seeking to challenge the status quo in the development sector and to find smarter, more effective solutions that solve persistent problems faced by those living in last mile communities.
This company believes that ideas and potential solutions should be tested first and that impact should be demonstrated before large investments are made. With more innovation in the development sector and experimentation of solutions to solve development problems, better programs can be developed and budgets allocated to impactful programs that have big potential to reduce poverty. They are therefore proactive in the testing of ideas that can benefit the larger development community. At their core they want to find what works and what doesn't to reduce poverty.
Kopernik engages partners from the development, public and private sectors to advance products, services and approaches that support disadvantaged people to realize their full potential and enjoy a dignified life, free of poverty. They undertake three core types of work to achieve this: experimentation, consulting services, and technology distribution. Wonder Women is one of Kopernik's technology distribution programs, in which they work with primarily women sales agents — called Wonder Women — who sell technologies, such as solar lights, water filters and cookstoves, to people in the last mile. Through an extensive field presence and strong network of local partners, this program delivers to the real needs of last mile communities. Learn more at www.kopernik.info
Customize the look of your media by making it widescreen or small and easily align media inside your posts.