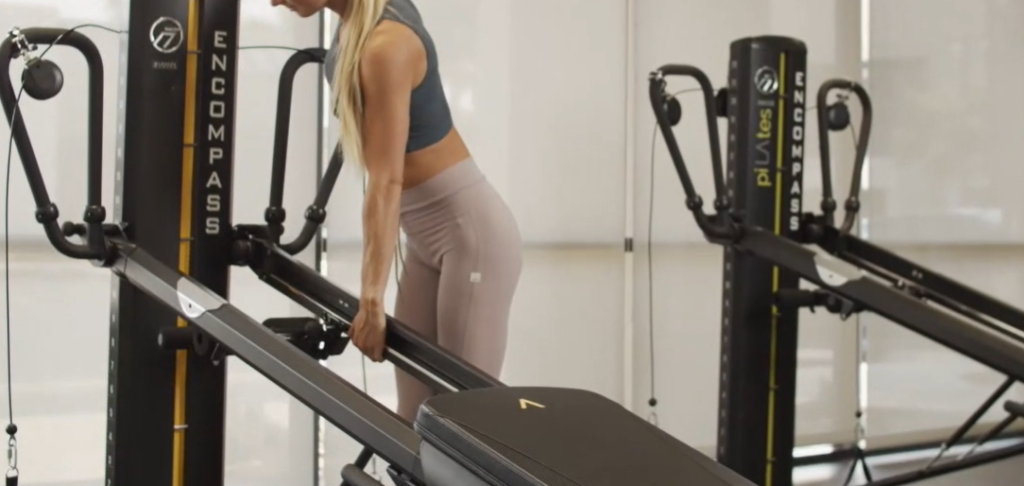 Most may recognize the internationally renowned Total Gym products from television advertisements and endorsements by celebrities Chuck Norris and Christie Brinkley. The brand has experienced steady growth since its inception in 1974, having achieved five million products sold around the world.
Total Gym provides a complete work out experience with a single piece of equipment for muscle building or rehabilitation that can be used in home, gyms, spas, and physical therapists.
Since 2018, when Shannon Harris was hired as their Staff Accountant to implement a new inventory system, they have also been an SOS Inventory customer. Here, Shannon shares her experience transitioning from an outdated desktop system to SOS Inventory and how SOS Inventory helped their business. Today, Total Gym manages two SOS Inventory accounts, one for the United States and the other for their European division.

When you started, was Total Gym working with SOS?
When I started, they were working with an outside accounting group that recommended SOS Inventory and QuickBooks. They had previously been using Sage which was really expensive and cumbersome, and their system was out of date, so they thought it was best to start over. SOS Inventory (with the sync with QuickBooks) was the system they recommended. I've worked with inventory systems in the past, including Lightspeed, and I also worked for Nordstrom for a number of years before I worked for this company, so when I came on, my main role was to implement the transition from Sage to SOS in June 2018.
What was your impression of the integration experience?
I found it to be pretty easy and seamless. We were missing a lot of information in our last system. Some of the things that were carried over were done incorrectly and we also had a few employees that did transactions incorrectly. I was able to find those when reconciling our account in QuickBooks and go back and make those changes in both systems. Even though it would have gone faster without those errors, I found it very easy to do. It was so straightforward on the web design that the system ran faster than other inventory systems I've used.
Do you list all your products on the website?
Our business is pretty complex. Our website is only one component of our business and when I came to the company it was the smallest and most outdated portion. They had an outdated website that really didn't sell any products. At the end of 2018, a marketing company redesigned the website and that's when the online business picked up. But our products are also sold to commercial gyms, distributors, and a wholesale market. We export to distributors internationally, as well. The SOS system allows for great mobility. In 2018, there were fewer reporting options, but many more reporting options have been added that are super helpful. My bosses asked me to write an explanation how to use SOS, but I explained I didn't have to because there is already a helpful user guide. Most of the time when you have to work with executives, you have to walk them through the process, but the guide saved me a lot of time.
Which SOS features are most beneficial to your business?
It sped up the process for us in a lot of ways. It's also an agile system because we use third party warehouses. When I started setting up the system, we needed to create a pick ticket for those warehouses. Someone from SOS walked me through a way to do that and we still use that same method to this day. Any problem or questions I have ever had about SOS, I usually get back a super detailed explanation about what to do. Even with QuickBooks, you usually have to look through the forum. That's difficult for financers. Any time we need help, SOS has been great at response and their knowledge of the system. At my company, a lot of people like to say they didn't do something, but the system makes it easy to see who did what and follow up with them. It's a full-proof way to see a day, time and who did it for one hundred percent accountability.
How was your business impacted over the last year with gym closures?
Surprisingly, our business stayed pretty busy because we picked up home consumers. Some used the stimulus check and people who were thinking of buying a unit had a good reason to do it. We also have a new financing partner and that helped with people applying for credit. We still had a year of growth and we do a variety of business. We have some dealers and international customers, as well. The international business sells direct to consumers, so we had growth there, as well. Once piece of equipment is marketed in three different ways.
What are the business benefits you experienced from the switch?
There's a huge cost savings in addition to being a much more dynamic system especially in terms of being able to reconcile differences much easier. We saved a lot of time by switching over. I'm also excited about your new payment system.
Would you recommend SOS Inventory to other businesses?
In addition to the cost savings, it's cloud-based. You guys have an app so you can use it from anywhere. It's great with the Shopify integration. I don't find it difficult to enter a sales order directly into the system and I really like the integration to QuickBooks. That's very helpful. It's very simple and helps us get accurate information.
SOS Inventory is delighted to support Shannon and Total Gym in their efforts to keep consumers physically fit at a time when health is top of mind and look forward to their future successes.