Equipment Tracking Software
Take the guesswork out of locating equipment with equipment tracking software capabilities available through SOS Inventory software. Equipment inventory management can consume a lot of your staff's time if they have a large area to cover to locate it. SOS Inventory takes the hunting out of equipment tracking with detailed inventory information that includes quantities, costs, and workflow actions.
And if your business includes multiple locations, your job becomes so much easier with the implementation of SOS Inventory. SOS can manage each location's inventory separately and as a whole so you can get the big picture of company performance or analyze by location. Equipment inventory software will save your staff time and make your business more efficient.
The Pitfalls of Equipment Management Systems
The biggest impediment for small to medium size businesses is justifying the cost of expensive systems costing tens of thousands of dollars that tend to offer a broad range of ERP functionality, much of which you'll have no use for. SOS Inventory, on the other hand, starts at just under $60 month with no setup or cancellation fees. Our team offers the level of support that best suits your team, whether they are self-starters or need hand holding through the process.
Another major barrier is the time investment required to implement the software and train staff to use it. SOS can be up in running in just a few weeks, a fraction of the time it takes most competitors' software.
More great equipment inventory management software features: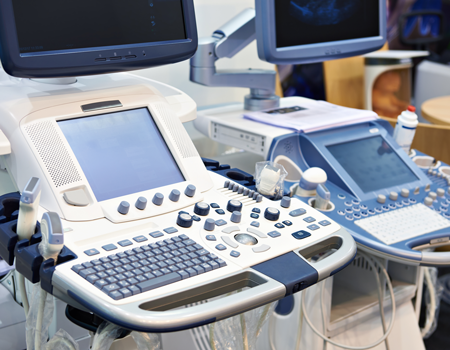 Perpetual and periodic inventory tracking
Unlimited locations
Customizable invoices
Over 50 customizable report templates
Barcode scanning
Lot and serial number tracking
Tracking at every stage of inventory movement
Mobile access
Order management
Fulfillment
Purchase order generation
Equipment rental tracking
Job costing
Work orders
Plus, much, much more!
Whether you are tracking expensive medical equipment inventory and need serial number tracking features to service warranties or equipment that requires regular maintenance, SOS Inventory provides the detailed information you need for every product from description, color, quantity, size, instructions, photos, and more so you always have a history of every product at your disposal.
Equipment monitoring is also a necessary component of equipment inventory management. If your equipment isn't working, you're business faces disruption at the very least.
The goal of equipment tracking software is to make your team's lives easier while saving both time and money. If you don't have a clear picture of your inventory counts, costs, and locations, you're operating at a disadvantage. Shed light on the oblique areas of your business with the clarity of detailed data from one end of each product's journey to the other with intelligent equipment inventory management software features.